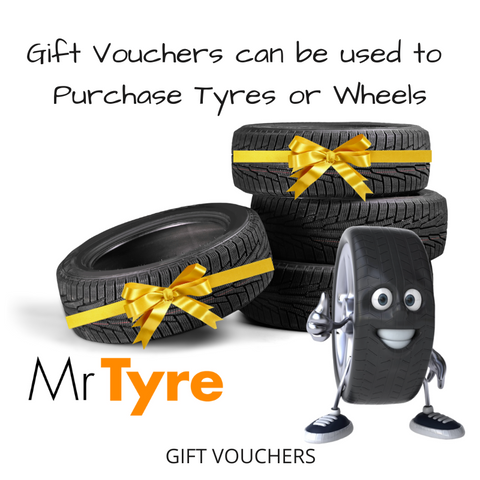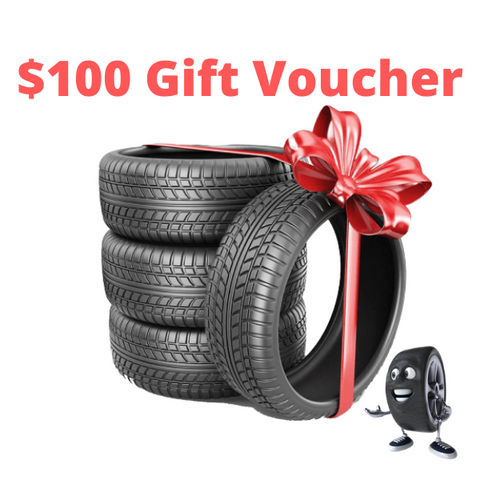 Usage

Brand

Mr Tyre Gift Vouchers

Model

$100 to $2000 Vouchers Available

Width

Profile

Diameter

Construction

Load Index

Speed Index
Looking for the Ideal GIFT VOUCHER. Why not get someone a New Set of Tyres or a Wheel & Tyre Package. Mr Tyre Gift Vouchers are available in any domination from $100 to $2000

Gift Vouchers can be purchased using any of the Interest Free BNPL payment options like AFTERPAY - OPENPAY - ZIPPAY - HUMM - LATITUDEPAY or you can use your Visa or Mastercard.

Gift cards are delivered by email and contain instructions to redeem them at checkout.
A code is provided to the Value of the Gift that is redeemed in the Checkout. 

What Can Gift Vouchers be used for:

Tyres (Car, 4x4, Truck)
Wheels (Steel & Alloy)
Wheel & Tyre Packages
Tyre Fitting, Wheel Alignments

Have Questions?
Email sales@mrtyre.com.au
Call: 1300 678 973
Social: @mrtyreonline
Fitting stations
Mr Tyre is growing its Fitting Station Network partnering with Independant Tyre Stores in many Regions. Mr Tyre provides Free Metro Freight to these Fitting Stations. Mr Tyre can only assit with Fitting Tyres that we have Supplied. Sorry but we can not fit tyres that you are supplying yourself. We may be able to refer you onto someone.

Tyre Shop - Fitting Station Partners

GOLD COAST
Ashmore / Molendinar Qld 4214
Biggera Waters Qld 4215

SUNSHINE COAST
Caloundra Qld 4551

BRISBANE
Clontarf / Redcliffe Qld 4019
Sandgate Qld 4017
Slacks Creek QLD 4127
Beaudesert Qld 4285

SYDNEY
Blacktown NSW 2148
Bankstown NSW 2200
Campbellton NSW 2560
St Marys NSW 2760

OTHER LOCATIONS
(Freight Charges Apply)
Emeralds QLD 4720
Darwin, Pinelands NT829
Rockhampton Qld 4700

More Stores Coming Soon
If you are a Tyre Store and would like to become a Fitting Partner with Mr Tyre >>>Contact Us with your store details.

Choosing a Tyre Store (Fitting Station)
After Selecting a Tyre Size, Brand & Qty. You are prompted to select a stores. You can also a Wheel Alignment to the order at the same Time.

Appointments for Tyre Fitting
You will be contacted by Mr Tyre within 24/48 hours of placing the order to Secure a Fitting Appointment.
Link to >>> TYRE FITTING - FITTING STATIONS


Mobile fitting partners
Mr Tyre offers Mobile Tyre Fitting at your Home or Work in limited Regions at this stage. Mobile Tyre Fitting Partners provide Tyre Services to Cars, SUVs, 4x4 and smaller Light Trucks. Plus Trailers, Caravans etc.
There is a Minimum Charge of 4x Tyre Fitting with all Mobile Tyre Fitting

More Mobile Tyre Fitters in More Regions Coming Soon
If you are an Independant Mobile Tyre Fitter and would like to become a Fitting Partner with Mr Tyre, Please Contact Us with your store details. We are constantly looking to expand into new Regions that we currently do ot service.

Regions Serviced - Mobile Tyre Fitting.
(Car / 4x4 / SUV Only)

Brisbane Logan QLD
Toowoomba QLD
Gold Coast QLD
Northern Rivers NSW
Newcastle NSW
Lake Macqurie NSW
Port Stevens NSW
Perth North WA

If you are wanting to know more please send us a message or email with your Suburb, location and tyre needs and we will check and ensure we can service your area.

Pricing:
Go to Mobile Tyre Fitting Partner Network.

Appointments:
Time Frame: 2 to 4 Days after Order is Placed.
Mobile Tyre Fitting appointments are usually booked out 3 to 4 days ahead of time.
Plus we do need to allow time for the Tyres to be Freighted to the Mobile Tyre Fitter.

Urgent Mobile Tyre Service Required:
Sorry, we are NOT set up for Same Day Tyre Service for Mobile Tyre Fitting.
However if you require a Mobile Tyre Fitter Urgently - Contact Us and we will see if we can assit.

Delivery / Freight
Mr Tyre Delivers Tyres & Wheels all accross Australia, uterlising many small and large Freight & Logistics Companies.

Delivery Time Frame This depends on the location, we average 2-3 days but can sometimes provide same or next day service. The location of the Stock available can alos cause extra delays.

Direct Freight Express (DFE) is our Main freight partner with a strong national express road transport service.
Direct Freight Express delivers to virtaully all locations within Australia. DFE provides an online tracking system. Mr Tyre supplies Customers a Link soon after the Tyres are Dispatched.

Mr Tyre engages with many Freight Logistic Companies to obtain an Alterntive or more Competitive Freight Rate.
Plus Mr Tyre prefers to Support the smaller Independants Operators or Freight Companies.

Regional Freight can be Expensive so we offer alternative options like Depot Pick Ups in some areas.

- Followmont Transport
- Mount Isa Couriers
- Wyton Transport
- Bundy Bullet
- Wards Transport
- St George Freight
- BB Freight
- FCB Logistics
- Emerald Freight
- Shaws Darwin Transport
- Blenners
- Capital Transport
- NJ Transport
- Parrys Logistics

We can always work with your Freight Company if you provide your Account Number.

Questions:
Please Contact Us directly with any questions.

Mr Tyre Gift Vouchers
$100 to $2000 Vouchers Available
---
Usage

Brand

Mr Tyre Gift Vouchers

Model

$100 to $2000 Vouchers Available

Width

Profile

Diameter

Construction

Load Index

Speed Index
Looking for the Ideal GIFT VOUCHER. Why not get someone a New Set of Tyres or a Wheel & Tyre Package. Mr Tyre Gift Vouchers are available in any domination from $100 to $2000

Gift Vouchers can be purchased using any of the Interest Free BNPL payment options like AFTERPAY - OPENPAY - ZIPPAY - HUMM - LATITUDEPAY or you can use your Visa or Mastercard.

Gift cards are delivered by email and contain instructions to redeem them at checkout.
A code is provided to the Value of the Gift that is redeemed in the Checkout. 

What Can Gift Vouchers be used for:

Tyres (Car, 4x4, Truck)
Wheels (Steel & Alloy)
Wheel & Tyre Packages
Tyre Fitting, Wheel Alignments

Have Questions?
Email sales@mrtyre.com.au
Call: 1300 678 973
Social: @mrtyreonline
TBD: Delivery & Fitting service info goes here